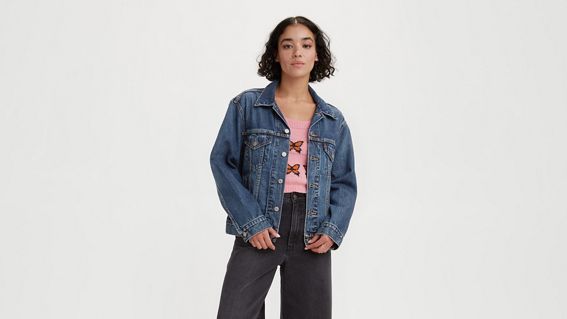 The Levi's ex-boyfriend trucker jacket is a classic, must-have denim piece that you no longer have to steal from your boyfriend. It's an oversized Levi's jean jacket that gives the vibe of borrowing it from the boys, but is fitted for a woman. It's one of the coolest things you could throw over a sundress on a hot summer day that turns cool as the sun sets. And it's currently 30% off at Levi's.
The jacket comes in six washes—be aware that only some of them are marked down, namely Concrete Indigo, Wild West, and Neu Blue. Personally I'm digging the Concrete Indigo from which I'm getting a mid-90s vibe. And I think the more oversized you style it, the cooler the look—I'm loving the off-shoulder situation in the image above.
Hop to it because the sale ($65 down from $80) is online-only and ends at 11:59pm on Saturday, August 12.
SHOP HATS
Torso Hat by S.N.S. Herning

Fowey Beanie Hat by Ted Baker
<
>
SHOP PULL OVER
Oversized Long Sleeve Polo Shirt fashion

Shop Isabel Marant Etoile Alpaca Floyd Pullov...
<
>